Business
Is the battle for transparency on Australian boards being won by investors?
To get an idea of how unsatisfactory this can be, real estate giant REA Group's investors did not have the chance to make a call on chairman Hamish McLennan's tenure, following the controversy around REA board's shareholder-paid adventures in Paris with the Wallabies. Shareholders also didn't get a chance to vote on Optus boss Kelly Bayer Rosmarin, an independent non-executive director of REA, despite her less than ideal response to a major network outage that affected public transport, hospitals and 10 million Optus customers.
Australian investors across the board are now asking if the current governance environment is good enough, and wrestling with new ideas to make underperforming boards and directors more accountable.
Ideas like putting the entire board up for re-election every year are already starting to filter through. Mining giant BHP and Treasury Wine Estates are putting their entire boards up for re-election, following the lead of US and UK listed companies.
"I think it's definitely worth it because of the situation with (chairman Richard Goyder) at Qantas," shareholder activist Stephen Mayne, says.
"If you've just got the automatic right to sack any director at any AGM, without having to put up a special resolution, it is more power to shareholders and more accountability, and what's wrong with that?" he asks.
One downside, which the Australian Shareholders' Association policy director Fiona Balzer is wary of – is that it takes the focus off individual directors.
Loading
Balzer also points to other issues like voting on the remuneration report, which has become a lightning rod for shareholder discontent at meetings. Two votes of more than 25 per cent against the report automatically trigger a resolution to spill the board, and it is taken very seriously by all.
According to Balzer, the board spill mechanism could potentially lose its potency if shareholders get to vote twice on the fate of the entire board in successive general meetings.
"I can't see how that spill meeting is going to work," she says.
If there is one thing that everyone agrees on, it is that hybrid AGMs are a good development with online investors joining those physically present for the meetings. Many hope it is the answer to stemming a worrying decline in retail investor participation at AGMs.
Balzer recalls the ASA commanding around $8 billion worth of member shares for AGMs 20 years ago. When she rejoined in 2017, those numbers had halved. And ironically, it may be this shift to online meetings that may be to blame.
The onset of "Zoom AGMs" means that many companies have stopped offering reply-paid envelopes for investors. And these investors have stopped bothering to vote, according to both Mayne and Balzer.
"We have a cohort who aren't moving to electronic voting – if they don't get a paper form, they don't vote. And if it comes too late, they don't vote either," Balzer says.
Mayne sees a deeper progression into digital shareholder interaction as the key to getting shareholders interested again. He says more meaningful interaction would raise the visibility of retail shareholders, whose voices are often drowned out by more powerful institutional shareholders.
The measures, suggested by Mayne, include innovations like showing how investors vote on every resolution, with clear reporting of the number of shareholder votes for and against a resolution.
"I think it's very healthy to say 3000 shareholders in favour, 2000 shareholders against because it reflects retail shareholder sentiment. And that will stimulate greater turnout," he says.
It is important for retail investors to show up because, as ASX board veteran John Mullen says, it is all about giving small investors a voice given institutional investors can easily get the board's ear.
"It's a bit of an anachronism in all honesty because it's really only attended by retail shareholders. And I can understand the frustration of retail shareholders when the votes go up and 95 per cent of the votes were given by institutional shareholders," Mullen says.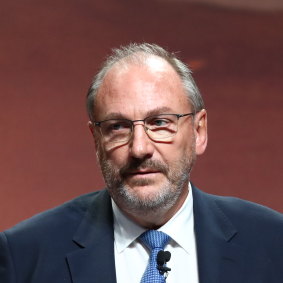 But even he says it is a good outlet for retail shareholders to express their views.
Brynn O'Brien, executive director of the Australasian Centre for Corporate Responsibility (ACCR), says it is more than just a sop to the masses of retail investors, and it can be important for enacting change – if the board allows it.
"It's that physical moment of accountability. Quite literally, you are accountable, you have to be there and answer questions from your shareholders," she says.
Some handle this better than most, O'Brien adds
"Some chairs will read the room and think, 'Well look, we're just going to be here until no one's got any more concerns left to ventilate right? And just take it on the chin'. It's the only time in the corporate cycle, where retail shareholders have that opportunity to engage."
To this end, Mayne, O'Brien and Balzer all agree that ensuring online questions are given the same level of respect as questions from the floor – without editing or censorship from the chairman – would go a long way to helping boost the relevance of AGMs for investors.
It would also go a long way to ensuring boards are held accountable in a way that many are not judging by the 130 meetings Mayne monitored last year.
"The perfect AGM has probably 10 shareholders in the room and 10 shareholders online lobbing questions and 90 minutes of debate … that is a good, solid AGM," he says.
The Business Briefing newsletter delivers major stories, exclusive coverage and expert opinion. Sign up to get it every weekday morning.
(The following story may or may not have been edited by NEUSCORP.COM and was generated automatically from a Syndicated Feed. NEUSCORP.COM also bears no responsibility or liability for the content.)